Editing Services: 'Beat the Rejection' Clinic
Our 'Beat the Rejection' editing service offers the unique opportunity of a 30-minute consultation with a literary agent to discuss your manuscript submission.
Overview
UPDATE 17/03/2020: We are currently organising Beat the Rejection consultations via Skype/phone ONLY.
Our 'Beat the Rejection' editing service offers the unique opportunity of a 30-minute consultation with a literary agent to discuss the opening of your manuscript and accompanying submission documents.
Whether you're just beginning your search for a prospective agent and would like some advice before sending your manuscript out on submission, or you've received a round of rejection letters and would like an assessment of what to do next, this service provides an invaluable opportunity to receive dedicated feedback. This means hints and tips on how improvements can be made to your covering letter, synopsis and opening chapters, as well as discussion around the wider context of where your book sits within the current marketplace and other steps to consider if your book is to have the best possible chance of gaining representation*.
*Please note: your consultation does not, in any way, guarantee an offer of representation is made by the agent
Features
This service provides the following:
A 30-minute one-to-one consultation with a literary agent dedicated to your book
Expert feedback on how you can improve your submission package
Inspiration and encouragement
Advice on 'targeting' as well as editorial pointers
Pricing and Next Steps
Each 30-minute consultation costs £225 (inc. VAT), with payment taken upon booking. The consultations take place at our offices 50 Bedford Square, London, or arrangements can be made for a phone call/Skype consultation. 
When clicking on the 'Apply Now' button at the top/bottom of this page you will be asked to select which literary agent you would like to see. Please look at the agent bios available on this page carefully before booking. Are they an agent that represents work similar to your own? After deciding which agent you would like to see, please use the calendar tool to select a date and time they are available for a consultation.
Before proceeding to payment, you will need to upload the following documents:
Covering letter
A one/two-page synopsis
Your opening three chapters (up to a maximum of 10,000 words)
Your covering letter should be addressed to the literary agent that you would like to see for your 30-minute consultation, and be no more than two pages long. Within your covering letter you should include:
The title of your book and the genre you believe it fits into
A note on your target audience and any comparisons to other works (books or otherwise) that you think may be helpful
A brief summary of what your book is about, offering a sense of who your protagonist is and your narrative style
An understanding of why you're submitting to the literary agent in question. Are you looking for general tips on the submission process, or do you feel as though you and your book would fit well on their list?
Some information about you as an author
The synopsis is a technical document that states what happens in your story from beginning to end. It can include spoilers and acts as a guide, allowing the agent to look at your story structure should they request to see your full manuscript.
To smooth the process further, please submit your work as a Word.doc file, number the pages of your submission, and use a standard typeface such as Times New Roman in 12pt and double-spaced.
Please note: Bookings must be made at least two working days in advance
Literary Agents
Imogen Pelham - Marjacq Scripts
Imogen Pelham is a literary agent at Marjacq Scripts, representing authors including Costa Short Story Award winner Angela Readman, Wellcome Prize shortlisted Emily Mayhew and Encore Prize longlisted Olivia Glazebrook. Prior to Marjacq, she worked at Aitken Alexander Associates for five years where she began building her list whilst working alongside Gillon Aitken. She represents literary and high-end commercial fiction, as well as a range of non-fiction including history, psychology, travel and food.
Davinia Andrew-Lynch - ANDLYN Literary Agency
Davinia Andrew-Lynch is the founder of ANDLYN, a boutique agency dedicated to children's fiction and content. The aim of the agency is to find authors whose material can not only exist on the page but can also find an outlet through other media territories. Davinia was previously an associate agent at a highly reputable film and television agency, and worked simultaneously as a freelance children's fiction editor and reader for various publishers, literary agencies, consultancies and scouts. 
ANDLYN are actively looking for new talent and want to discover stories that will smack them between the eyes and capture their hearts. They welcome picture books, middle grade, young adult and cross-over fiction alongside non-fiction material and represent both writers and illustrators. 
Davinia is also expanding into commercial fiction and has a particular love of 'out of the box' cosy crime/mystery.
Thérèse Coen - Hardman Swainson Literary Agency
Thérèse Coen was born and raised in Belgium and moved to England in her late teens with her family, and then stayed in London to do a History degree and Masters at University College London. Having been brought up bilingual, speaking French and Dutch, then picking up German and English later on, translation rights seemed like a very logical next step. Her first job in publishing was at Bloomsbury Publishing, where she started as an intern and left as Rights Executive. Thérèse then worked at Ed Victor Ltd where she was lucky enough to learn from one of the most renowned and experienced literary agents in the world, handling huge celebrity titles alongside Booker-prize winning authors.
Thérèse has been building her own list of authors alongside selling translation rights since early 2016 and is now Rights Director and agent at Hardman Swainson. She is happy to cut her teeth on genres across the board and loves nothing more than keeping her reading and her authors an exciting and wide-ranging mix of styles and readerships.
Within these varied spheres, what is needed to grip Thérèse is an original concept or hook, polished and pacey writing, captivating worlds and always a strong kick-ass protagonist, be they fictionalised or real. She wants original, distinct and memorable voices, books  that make you feel (tie your heart in a million knots or smash it into a million pieces), laugh until you have a stitch, or stay with you and make you ponder for weeks. For non-fiction, Thérèse wants these books to teach her, without making her feel ignorant. 
Lydia Silver - Darley Anderson Children's Book Agency 
Lydia recently joined the Darley Anderson Agency and is looking to build the children's list. With a background in middle grade and YA fiction, Lydia is particularly looking for magical middle grade adventures, funny contemporary stories and YA novels with an unusual voice. Above all, she wants to find stories with wit, charm and heart.
She's also got an eye out for clever, engaging picture books and is developing the non-fiction side of the children's list. She loves working editorially with writers and is always on the lookout for new talent. Lydia is actively looking for submissions from Black, Asian and Minority Ethnic, LGBTQ and all other under-represented writers. 
Megan Carroll - Watson Little
Megan graduated from Goldsmiths with a BA in English and American Literature in 2013 and worked as an intern at Watson, Little and Caroline Sheldon Literary Agency before returning to the agency as the assistant in July 2014. She is now an Associate Agent and is building her own list.
Megan is looking for commercial fiction & reading group fiction with original voices and an interesting hook, YA with realistic themes and characters, memoir and good narrative non-fiction writing on film and popular culture. She's especially keen on finding debut authors as well as growing a list of talented illustrators. Megan is also interested in discovering new, quirky and imaginative voices across all ages in Children's Fiction.
Laura Williams - Greene and Heaton
Laura Williams joined Greene and Heaton as an agent in 2018. She worked at Peters Fraser and Dunlop from 2011, after completing a degree in Classics at Oxford. She is actively building a fiction list and a small non-fiction list. She is currently looking for literary fiction, edgy commercial fiction, psychological thrillers and high-concept contemporary young adult, as well as narrative non-fiction of all types. Her taste is quite dark, and she loves gothic, ghost stories, horror and anything sinister. She also loves books that make her cry, from a big love stories to intense family dramas.
Juliet Pickering worked for Waterstones as a bookseller and fiction buyer before starting at A P Watt in 2003, where she became an Associate Agent in 2007. Juliet joined Blake Friedmann in 2013, becoming Vice Head of the Book Department in 2017, and her authors have been shortlisted for Booker, Costa, and Guardian First Book Awards, won the Whitbread and Green Carnation Prizes and, in 2015, the prestigious French literary award Prix Femina Etranger. Her fiction interests range from literary through to book club, and she enjoys commercial novels with fresh, contemporary and feminist central characters; the main requisite is that these stories have a deep emotional heart, and rich, multi-layered, real characters. She also represents many non-fiction writers across the board, including memoir, pop culture, social history, writing on issues of race, gender and class, cookery and food, humour, and all sorts in-between. She is always looking to bring more under-represented voices to readers, and for her writers and their books to provoke conversation.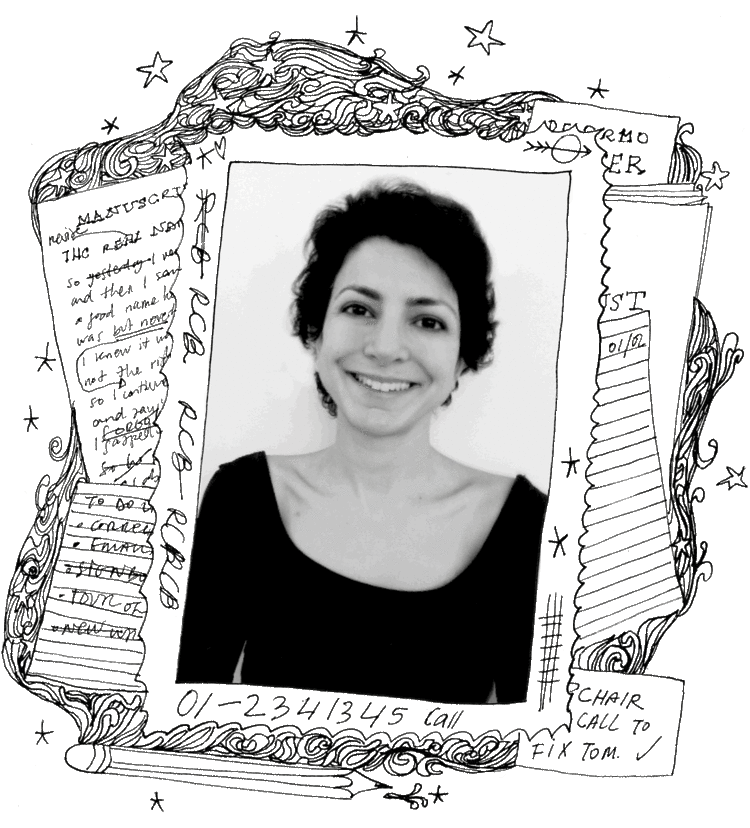 Samar Hammam founded Rocking Chair Books Literary Agency in 2013 after six years as a Director at Toby Eady Associates. Prior to that she worked as a literary scout in New York City for Linda Clark Associates.  She is a primary agent, but works with other agencies to represent their rights in translation. Samar represents a genre-spanning number of clients, from poet and writer Warsan Shire to comedy fiction author Amita Murray. She lives in London with her fella and two kids.
Testimonials
"Gave me clear and concise ways to improve my query materials and look at my project through the eyes of an agent. The agent was sharp and professional. But she wasn't there to tear me down. She was there to show me where I shine and where I still needed to polish (so I can shine even more). I know firsthand that the query and synopsis are a pain in the neck to write for us creative types. We may know how to create an entire Universe on paper, but not how to sell it! And it feels impossible to guess what agents and publishers are looking for. So don't guess. Write YOUR story, and then get some expert advice on how to make it shine so brightly that you can't be ignored. Do yourself (and your future readers) a favor and book your session. You don't have to do this alone." Bec Sato
"Around Easter last year I attended a 'Beat the Rejection' clinic with Laura Williams having just finished the fifth draft of my first novel. I was terrified but she was so lovely and made me feel at ease within a few minutes (I'm autistic so I struggle with meeting strangers!) She had taken the time to thoroughly read and make notes on my first three chapters, query letter and synopsis then explained to me over the course of half an hour what she felt could be better (and what she liked!) She didn't sugar coat anything but, as much as I found listening to constructive criticisms difficult, ultimately it proved to be exactly what I needed to hear. On Laura's advice I began a sixth draft and after half a year, innumerable cups of tea and one very patient husband later I had cut 30,000 words. And you know what? The book is better. I've ended up with more character building moments despite the word cull. The plot makes more sense. Everyone's purpose is clear and their motivations are strong. Yes, I had to put in the work to make it happen but there is no way I would have even thought to re-look at the structure had I not attended the clinic with Laura. Her advice was invaluable and I can't thank her enough!" Ren Fisk
"Emma [was] helpful and encouraging beyond belief, and I have a clear idea of what to do next." Katerina Pantelides
"The session was managed so well that we covered far more than I had expected to in 30 minutes. I now have the tools for the rewrite that I know if necessary and I feel positive about my ability to do this successfully." Lisa Browne
"I felt the meeting was extremely worthwhile; it was wonderful to be able to sit around a table and discuss my work with an expert like Emma. She provided me with a huge amount of useful information. Her professional advice and guidance were invaluable to me." Steph Upton
"It was just what I needed! Very constructive." Eva Stenborre
"The agent went above and beyond what I had expected. I came away inspired, enthused and more importantly...ready." Freya Morris
"Jenny has a very genuine and supportive approach and I felt she was interested in my ideas." Susan Rollinson
"...the reaction of an Agent was very useful, particularly in spotting a couple of flaws that I suspected, but - after several drafts - no longer had the enthusiasm to fix." Sean Barker
"I had thought that agents were a bit like guillotines but rather less polite. Lucy was chatty, helpful, with a genuine interest in my work...and made many extraordinarily useful suggestions for my current book, as well as broad brush strokes which will help with future writing. Lucy clearly had looked at my 7000 words in considerable detail beforehand, making many notes on the margins....Satisfied, I left, resolved to plunge into an MS re-work, à la Lucy." Alison Gardiner
"You will be at the top of the slush pile for thirty minutes of intensive discussion with an agent, and you will find out how (or if) you can bring your manuscript to a professional level. This is a great opportunity to be taken seriously." Will Fraser
"Juliet was friendly, open and engaging. She provided practical guidance on how I could improve my MS and was very honest in her assessment of strengthening my story. She reviewed my cover letter and synopsis, providing written feedback which I took away. I left the session with more confidence and with a very clear idea of what I should change and what my next steps should be. I'd definitely recommend this session for anyone trying to get an agent." Farheen Kahn